Florida Solutions Pest Control Services offers affordable pest control services in Southwest Florida. We provide residential and commercial pest control including termite treatment, tent fumigation, bed bug mitigation, rodent control, mosquito control and so much more. We serve communities in Lee, Charlotte, Glades and Hendry counties, from Port Charlotte to Fort Myers and Cape Coral to Moore Haven.

General Household Pest
Southwest Florida is home to a variety of different pests due to our subtropical climate. Get your free no obligation inspection today. Monthly or bimonthly pest control services for preventative pest control. Service includes thorough inspection of your property, customized treatment and preventative techniques tailored to your home by a fully licensed and insured technician. Includes treatment for: ants, cockroaches, spiders, fleas, pantry pests, silver fish and many more.

Commercial Pest Control
Commercial pest control service includes weekly, biweekly or monthly service appointments for your business. Appointment times tailored to meet your business needs. Commercial pest control includes but not limited to: medical office building, schools, restaurants, storage units, nursing homes, apartment complexes, condo associations.

Rodent Control
Service includes free, no obligation inspection. State of the art rodent bait stations are used to reduce the rodent population around your home or business. Rodent stations are tamper proof and come with a lifetime warranty.

Wildlife Control
Wildlife trapping to include snakes, armadillos, raccoons, opossums, iguanas, ducks, and rats. Humanely trap and relocate most animals to natural habitat. Daily live trap checks and two times a week rodent trap check. Call today for your free quote!

Termite Control
Don't let termites damage your home. We offer drywood preventative treatment, active drywood spot treatments, subterranean termite control, and new construction/remodel termite services. We have liquid or termite bait station options available.

Rodent/Wildlife Exclusions
Let us seal up your home or business from rodent or wildlife entry. We offer cleanup, decontamination and restoration for damage caused by rodents or wildlife. Exclusions include a 1 year renewable warranty.

Sanitation
We can sanitize and disinfect your home or business to help prevent the spread of COVID-19.
Our Mission & Values
We understand that a pest and termite-free home or business is important to you. Partner with a pest control company you can trust, Florida Solutions Pest Control Services. As a family owned and operated business, we hold our technicians, employees and other staff to a higher standard when it comes to service and professionalism. We operate according to the belief that with great quality comes great value and that the service you receive should be the same as what we would expect for ourselves and our family.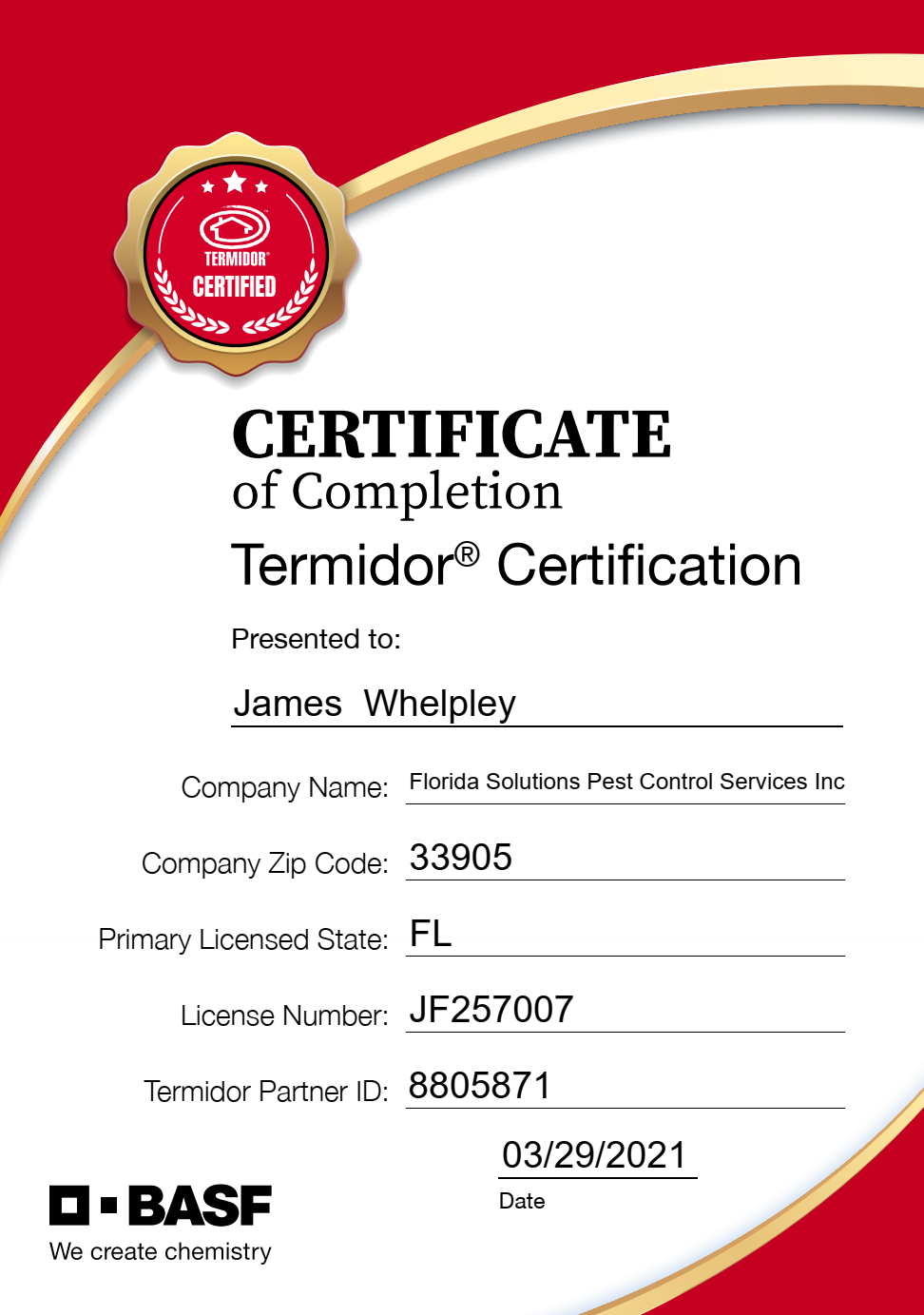 Trusted
We're experienced professionals with the knowledge, training and certifications necessary to provide years of exceptional service. We have 14 years of helping clients solve their pest problems here in SW Florida.

Fair Prices
Our free quotes are based on the best solution for your needs. Our honest prices are in line with the exceptional service you will receive and will never include hidden up charges.

Fast & Responsive
Call now and get a same day response. We pride ourselves on delivering service when you need it and showing up when promised.

Satisfaction Guaranteed
We stand by our work. We're committed to making sure each of our customers are satisfied with our results. Many of our services come with a pest free guarantee so you can trust that the solution we recommend is effective or we'll continue to treat until you are satisfied.
"James was amazing! Everyone at the company is friendly and knowledgeable, I will never use anyone else. He explained the process, the pricing, and after the initial inspection, gave us some great tips on how we can participate in keeping our home bug free.
I work from home and he was super respectful and still managed to develop trust. This is the beginning of a great partnership with Florida Solutions Pest Control Services. "
"Absolutely fabulous! Called me within minutes, came to my home within 30 minutes and literally James caught the snake that was in my garage within 5 minutes. I didn't even know where it was, I only knew where it got in. " My hero" Thanks you very much James. Hire him!!!"
"James was very perfessional and understanding of our situation. knowledgeable and effective, will defiantly recommend in the future!!!"
Full Licensed And Insured
Veteran Owned And Operated Business